High Polish
Mould Polishing machine with PLC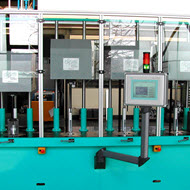 The PLC mould polishing machine is made for efficient polishing of glass moulds for the container glass industry and is available from one up to four stations. The machine will be used to polish glass molds after turning or milling and for mould maintenance. Suitable for any moulds from iron, bronze or steel, it can polish round and shaped cavities with rounded edges.
Naturally the machine complies with all European safety regulations The moulds are clamped on magnetic chucks. Tool and spindle rotate with 5.500 RPM. The rotating spindle itself makes a planetary movement at the interior of the mould cavity and is applied against this cavity. At the same time the spindle moves up and down into the cavity at a slow speed.
The rotating and vertical speeds and the strokes are controlled by a PLC control and allow unlimited numbers of setups for fully automatic grinding and polishing processes. The machine is available with 1, 2 , 3 and 4 sections. All sections can operate individually at the same time.
By the programmable logic controller, countless programs can be saved and loaded. Convenient operation by touch screen without high programming efforts.